First Friday Scranton Map: August 2022
Published: August 1, 2022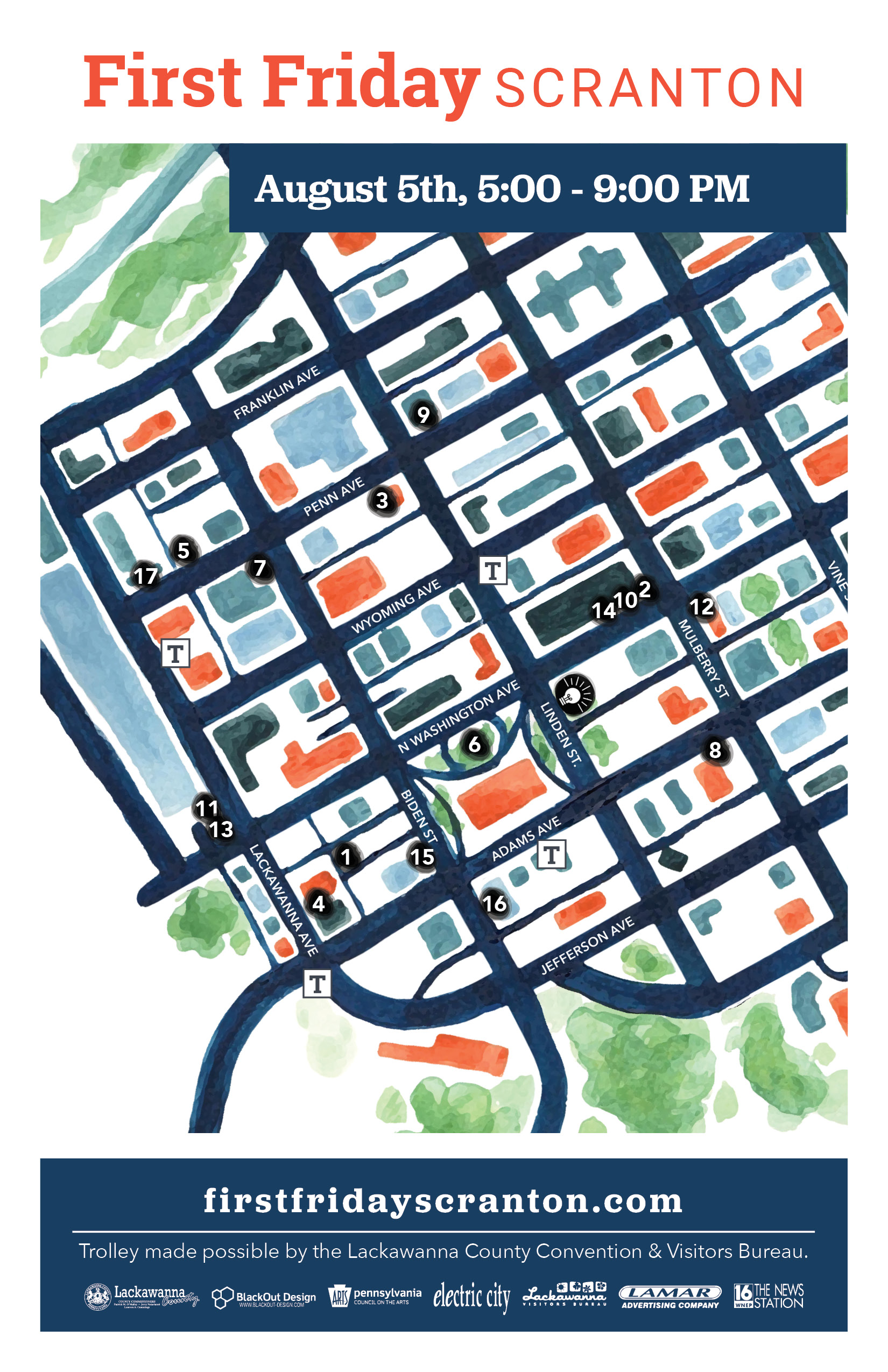 M = Live Music
S = Open Saturday
1.) Adezzo – "Found" a collection of artworks by staff, residents and board members of The Wright Center. All proceeds will benefit our PCE program. Live music by Michael Stec. M S
2.) Analog Culture – BESOS VINTAGE POP UP. Live music by K.A.N.O.B.I. M S
3.) ArtWorks Gallery & Studio – Perseverance: The Life's Work of Alex Seeley. Live music by Steve Werner. M
4.) Bartari – "Playing with Toys" artwork by Mike Watts. Live jazz music. M S
5.) Center City Print – "Ella" by artist Peyton Hulbert.
6.) Courthouse Square – Celebration of Recovery: Featuring Stories of Hope & music by The Merchants of Groove. M
7.) Downtown Deli & Eatery – Art and live music by Johnny Yzkanin. M S
8.) Eden – A Vegan Cafe – "Awakening" by artist Kim Simmel.
9.) Fork N' Bowl – "Earthly Observations" by artist Joey Kovach. Live jazz music. M S
10.) Little Wild Refillery – "Open to Interpretation" by artist Kyle Kuczma. S
11.) Northeast Advisory Group, LLC – "Chasing Whimsy" by artist Rachel Kissell. Live music by Jung Bergo. M
12.) POSH @ The Scranton Club – Group art show by Gregory Pelly and Sam Kuchwara.
13.) The Garden Restaurant – Paintings by Travis Prince. Live music by Nancy and Spencer Reed. M S
14.) 323 N. Washington Ave. – Art by various artists. Live music by Justin Padro Trio. M S
15.) Vecina – "The Art of Mindful Fiber Marbling" by Jamie Durkin. S
16.) LAVISH Scranton – live jazz music. M S
17.) Commonwealth Coffeehouse – "Abstract Works in Blue" by artist Danielle Lehtinen. Live music by David Harris. M S
17th Annual Scranton Jazz Festival – All weekend long!
Check out scrantonjazzfestival.org for a full schedule
Back to News