First Friday Scranton Map: December 2022
Published: November 29, 2022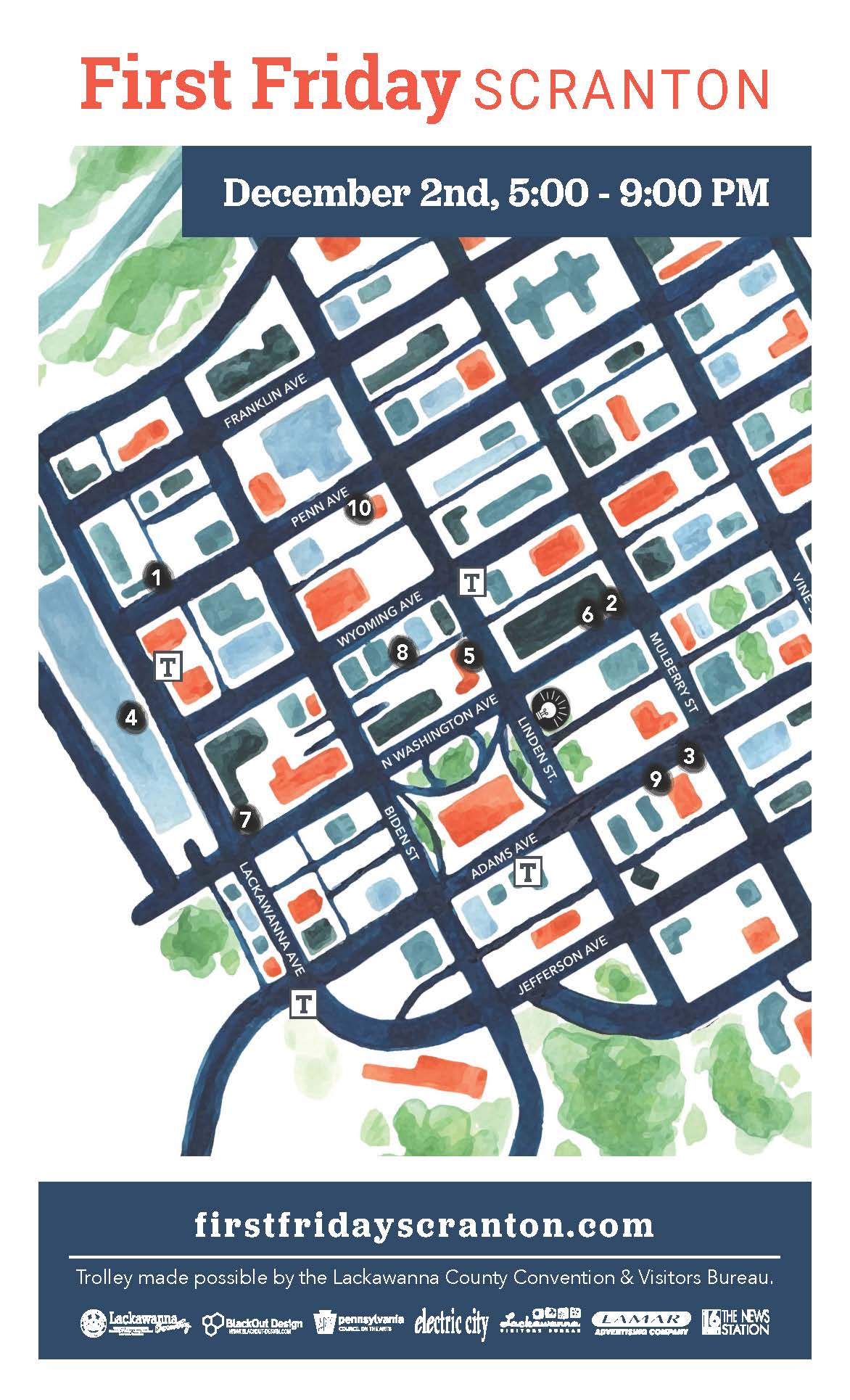 M = Live Music
S = Open Saturday
1.) AFA Gallery – Winter Membership Exhibit. S

2.) Analog Culture – "The Love Below" Group Show. Live music by VINZ & K.A.N.O.B.I. M S
3.) Bazaar Skateshop – "Private Eyes" by artist Aubre Werner. S
4.) Friends of the Scranton Public Library – Book Sale and Amy Lynn Walsh – author of Elsie Whitmore and Voices in the Sanitorium. S
5.) Future Site of Cypress House Bakery at St. Luke's – Mark Loughney and artists from The Recovery Bank of Scranton. Live music by the Lyric Consort. M S
6.) Little Wild Refillery – "Awakening" by Kim Simmel. S
7.) Nabi Medical Aesthetics – Open House with live music by Riley Loftus. M S
8.) The Ritz Theater & Performing Arts Center – Shutterbugs Photography and Illumination Youth Arts Program Showcase. S
9.) The Workshop – "CyberSpace Works" by Jackie Cunha. Live music by John Meza. M S
10.) ArtWorks – "Reflections" by Stacy Cosgrove Community Artist and Stroke Survivor & Individuals that attend ArtWorks Art Program: Lou Ann Mills and Jamie Bormann. Live music by Steve Werner. M
Wandering Musicians
The Accidental Brass Band
LACKAWANNA WINTER MARKET
The Lackawanna Winter Market will kick off on December's First Friday, with the Courthouse Christmas tree lighting at 6:00 PM.

Many new events along with unique handmade creative vendors!
A Day to Remember
Alpacas of Windy Haven Farm
Art by Allison LaRussa
Bad Kitty Knits
Bearded Ladies & Co
Boutique Libertina
Carmella's
Chrissy's Creative Creations
Christine's Soap Box
Classique Keepsakes
CoCo Creative Studio
Country Girl Kettle Corn
Curiosities Killed the Kat Jewelry
Deep Roots Hard Cider
DoodleBop's llc.
Embroidery4U
Essence For Your Senses
Etched Out Designs
Gravity Line Forge
Handmade with Love by Margie
Illumia skin care products
Johnart Kreations Centre for African Art & Crafts
K & D Creations 143
Kathy's Crochet
Krysta's Custom Creations
Lil Sofia's Jewelry Box
Designs by Olivia Grey
Lucchi Family Wine Cellars
Mark Ciocca Illustrations
Murphy's Bee Farm
Naked Toffee
Nelstra Gallery
Noteology
Occasionally Handy
Osborne Specialties
Pittston Popcorn Co,
Pure Suds Co.
SA Coffees
SM Hairbows & More
Space Time Mead & Cider Works
Spot of Tea LLC
StoneFawx Studios
Sugar Plum Chocolates
Sugarloaf Herb Farm
Talerico's Tropical Winery
The Welsh Tea Shoppe LLC
Tig & Cooneys
Vikki's Nut House
White Pine Graphics
Wire People
Plus entertainment!
Friday, December 2nd | 5 PM – 9 PM
Tree Lighting at 6:00p.m.
Saturday, December 3rd | 11 AM – 7 PM
Sunday, December 4th | 11 AM – 4 PM
Back to News