First Friday Scranton Map: June 2022
Published: June 1, 2022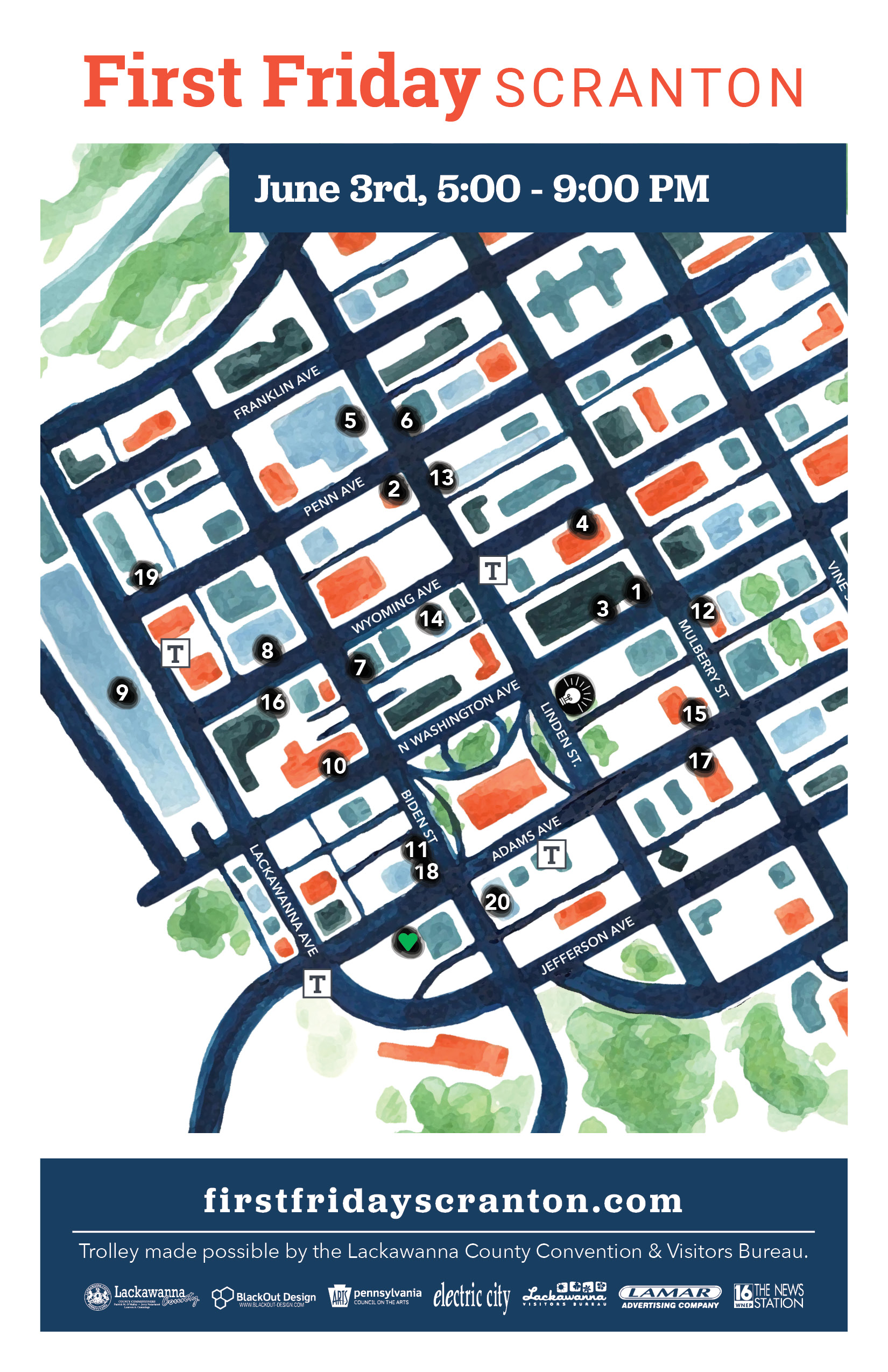 M = Live Music
S = Open Saturday
1.) Analog Culture – "Practicing Patience" by XERO. Live music by K.A.N.O.B.I. M S

2.) ArtWorks Gallery & Studio – "Jean Maslany: A Retrospective".
3.) Crocus Cafe – Mental Health art show by various artists. Live music by Allan VanWert. M S
4.) Diocese of Scranton Pastoral Center – NEPA Gives Rally with music, art, wine/frozen hot chocolate, snacks, raffles, and giveaways and more. Live music by Fr. James Paisley and Fr. Joseph Elston singing solos and duets and reprising "Cathedral Capers", DJ music plus Gratitude Karaoke; Mark Stransky, jazz musician. M
5.) Duffy Accessories – "Landscapes of NEPA" by painter Greg Pelly. S
6.) Fork N' Bowl – Art by Sachiko. Live music. M S
7.) High Priestess Pole Studio – "Joy of Being" by Yolanda Goldsack. S
8.) Lackawanna Government Center – Healthy Aging Campus Art Show by Health Aging participants. Live music by the Tyler Dempsey Trio. M
9.) Library Express Bookstore – Book singing by author Billy Kraser. S
10.) New Laundry – "Seafoam" by Jack Puhl. S
11.) Northern Lights Espresso Bar & Cafe – Art by Sam Kuchwara. Live music by Sweet Anne Marie. M S
12.) POSH @ The Scranton Club – Group art show feat. Maddie Brown and Rachel Rafalko. Live music by The Longo Brother duo. M
13.) Scranton Tomorrow – Scranton City Pride Kickoff with Scranton Tomorrow and NeighborWorks NEPA.
14.) St. Luke's Church – Family Game Night and Youth Crafts.
15.) The Bog – Art by Susie Prisk. S
16.) The Recovery Bank – June at The Recovery Bank. Live music by Unirun Trio. M S
17.) The Workshop – "Miscellany of Mysteries" by Maxwell Christian. Live music by John Meza. M S
18.) TUSK – Live music by TUSKRA/SATURBAE. M S
19.) AFA Gallery – "Artists for Animals: An Exhibit of Compassion" feat. various artists.
20.) Fringe @ 200 Adams – Something for Everyone: Fringe Group Show. Live music by DJ Dino Denaples. M S
NEPA Gives
Don't miss the live entertainment in Downtown Scranton at the Hilton Scranton Conference Center on Friday evening, June 3, for NEPA Gives! You can come out and meet many of the participating nonprofits, learn about the good they do in our communities, and show your charitable support as you enjoy live entertainment, giveaways, and fun during the First Friday in June!
Learn more at NEPAGIVES.org.
The following participating nonprofits will have tables outside of the Hilton Downtown to share their missions with First Friday participants during NEPA Gives:
'Nonprofit Hub' at the NEPA Gives 'Give Gathering'
Catherine McAuley Center
Outreach Center for Community Resources
NeighborWorks of NEPA
Women's Resource Center
Adopt a Boxer Rescue
Anthracite Bicycle Coalition
Bread Basket of NEPA
Discovery Montessori
Equines for Freedom
Friends of the Poor
Howard Gardner MI Charter School
Indraloka Animal Sanctuary
Junior League of Scranton
Northeast PA Pet Fund & Rescue
Quigley's Shelter Pets, Inc.
Scranton Cultural Center at the Masonic Temple
Serving Seniors, Inc.
VNA Hospice

Back to News