First Friday Scranton Map: May 2021
Published: April 30, 2021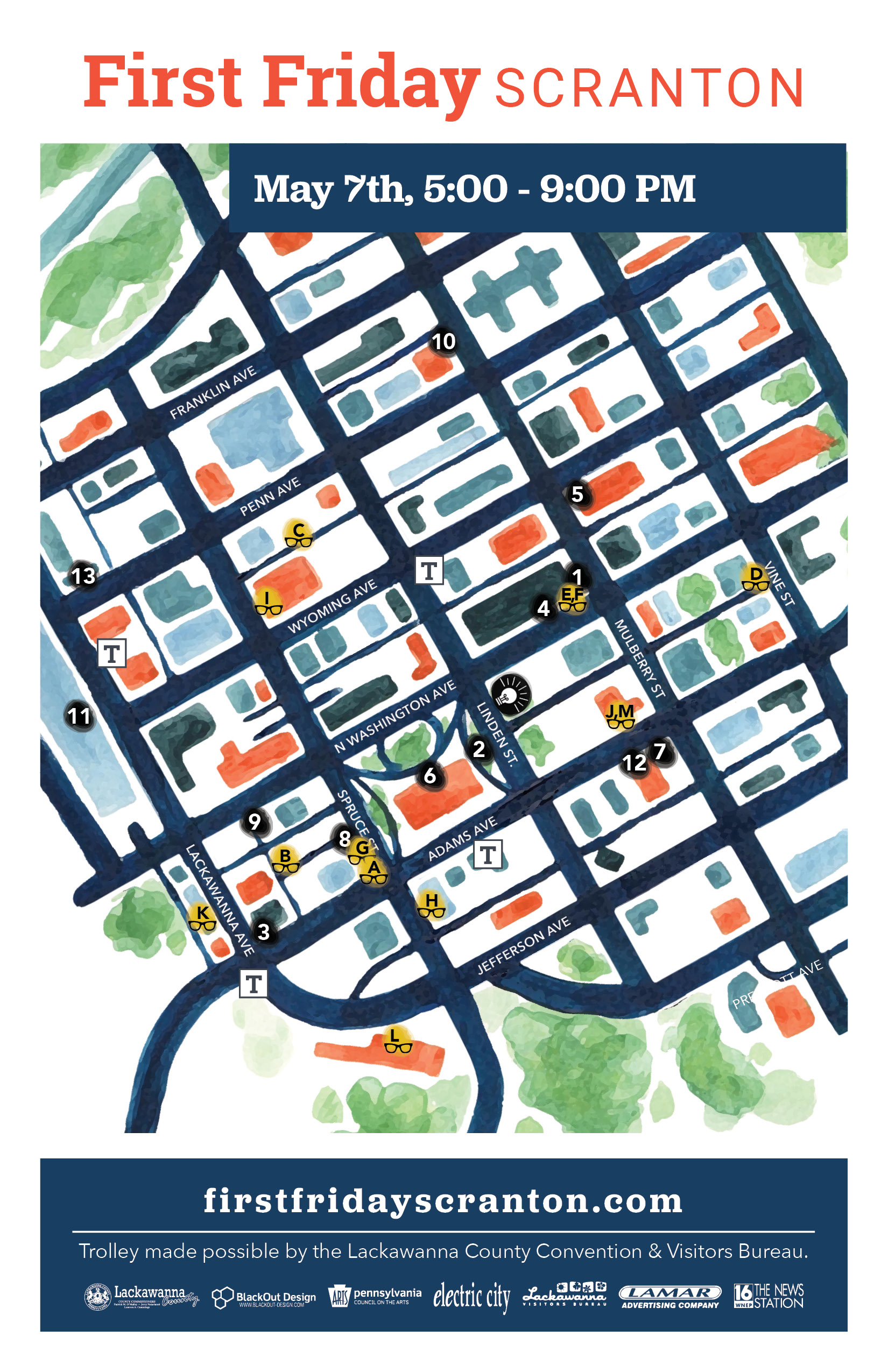 M = Live Music
S = Open Saturday
1.) Analog Culture – Sam Kuchwara at Analog Culture. Live music by K.A.N.O.B.I. M S

2.) Anthracite Bicycle Coalition – Illuminate the Night Bicycle Ride and Promoting Bicycle Usage & Safety (Partnering with NEPA Art Project).

3.) BARTARI – K A R I N A by Karina Lynn. S

4.) Crocus Cafe – Crafts by Iryna. S

5.) Heaven & Earth – Open Mic Night feat. various musicians. M S
6.) Lackawanna County Courthouse – Vendor Village on the Square.
7.) Loyalty Barber Shop of Scranton – "Connections by Amanda Hrycyna. S
8.) Northern Lights Espresso Bar & Cafe – Jenny Matthews Art. Live music by Jennifer. M S
9.) The Garden Mediterranean Restaurant – "Bloodlines" by Nancy Yamin. Live music. M S
10.) The Greater Scranton Chamber of Commerce – The Chamber Block Party. Live music. M S
11.) The Marketplace at Steamtown – Various artists and live music. M S
12.) The Workshop – Art Exhibit by Marywood Graphic Design & Illustration Students. Live music by John Meza. M S
13.) AFA Gallery – "The Pep Boys" by Mickey Campbell, Joe Kluck, & Earl Lehman.
Live Music: Dunmore C

éilí

Band
Traditional Irish music
Renaissance Plaza, 520 Lackawanna Avenue
—
OBSERVE SCRANTON
A week-long celebration of Jane Jacobs's life and legacy May 4 – 8 2021
Observescranton.org
Join us for a week long community festival celebrating Scranton through the eyes of Jane Jacobs, its hometown iconic city activist, on what would be her 105th birthday.
Free community exhibits located all over the city in collaboration with the Lackawanna County Library, Marywood University, the University of Scranton, the City of Scranton, and many private community-minded Developers, organizations, and businesses.
Live Music, First Friday Celebrations, Book launch/signings, Flag raising, Bike rides and more. The Festival concludes with a special ticketed Fringe Festival event StorySlam.
A.) Observe Scranton HQ – University of Scranton & United Neighborhood Centers of NEPA – Interactive Exhibit.
B.) Adezzo – Observe Scranton: Portraits by Sam Barresse.
C.) Fancy Parsley Architecture + Design – Electric Jane – Attached Houseing AH-Solar Decathlon.
D.) Lackawanna County Children's Library – Camp Archbald and Girl Scouting 100 Years.
E.) Observe Scranton @ 343 N. Washington Ave. – "Exploring Memory."
F.) Observe Scranton @ 343 N. Washington Ave. – Weave: South Scranton and the Silk Mills.
G.) Observe Scranton @ 544 Spruce St. – "Dwelling on the Elemental".
H.) Observe Scranton @ 200 Adams. Ave. – "Dwell: Global Settlements".
I.) Observe Scranton @ 321 Spruce St. – Illustrating "Death and Life of Great American Cities" exhibit.
J.) Observe Scranton @ The Leonard Theatre – Celebrating Inclusion: A Retrospective.
K.) Observe Scranton @ 518 Lackawanna Ave. – How Can Future Designers Empower Youth Through These Four Lenses? Racial Injustices, Sexual Identity, Mental Health & Gender Equality.
L.) Radisson Lackawanna Hotel Scranton Lobby & Lounge – Scranton Lace and the Center for the Living City curated by Maria MacDonald.
M.) The Leonard Theatre (Ground Floor) – The Art of Living.
Back to News