First Friday Scranton Map: May 2022
Published: May 2, 2022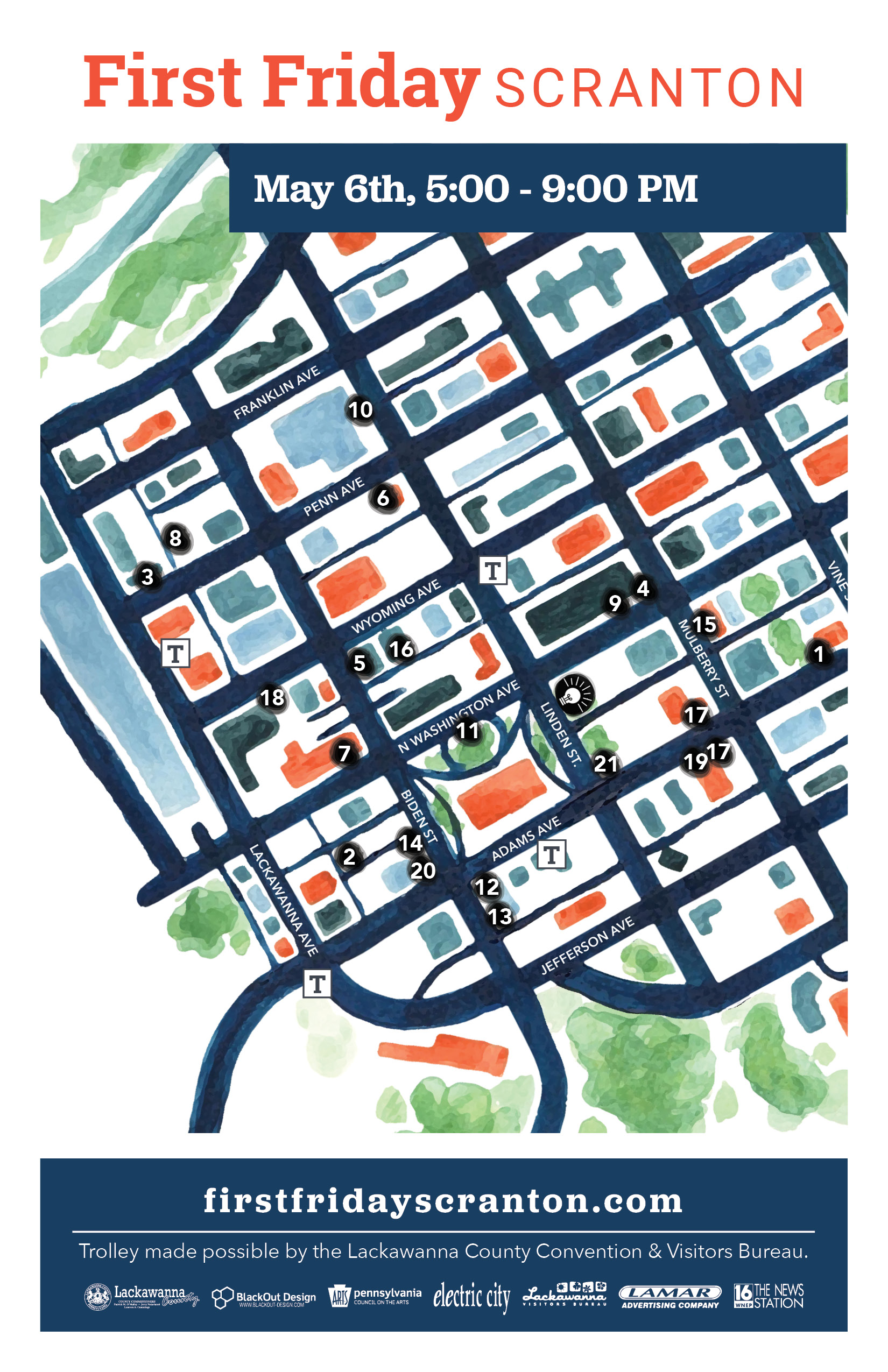 M = Live Music
S = Open Saturday
1.) 409 on Adams – Food & Culture Photo Exhibition by Lackawanna College Student Body.
2.) Adezzo – Landscape Meditations by Peggy Gladys. Live music by Michael Stec. M S
3.) AFA Gallery – Group Show: Spring 2022 Members Exhibit. S
4.) Analog Culture – "THE MAN IN RED" by Vince Bonitz. Live music by K.A.N.O.B.I & VINZ. M S
5.) Artisan's Square – "Alphabet Rap" by Juicey Jay and Native American Song Dancer. Live music. M S
6.) ArtWorks Gallery & Studio – "Flower Moon" by Colleen Germain, Lily Guziewicz, Betsy Kezer, and Margie Makowski. Live music. M
7.) Bar Pazzo – "The Paper Company" by Gavin Esham. S
8.) Center City Print – Graphic designs by Jorge Ariza.
9.) Crocus Cafe – "Pretty Things" by Iryna. S
10.) Duffy Accessories – "Surrealism meets Literary" by Paul Rochney. Live music. M S
11.) First Friday Vendor Village on the Square – Multiple hand-made vendors. Live music by Dave Brown Duo. M
12.) Fringe @ 200 Adams Ave. – SCRANTON: Works by David Ohlerking. S
13.) Lavish – The Cheese Lady @ LAVISH. S
14.) Northern Lights Espresso Bar & Cafe – Spring into Tea – Inside venue: Keith Renard Art; Outside: Fashion on Biden. S
15.) POSH @ The Scranton Club – Group Show – Helen Lavelle, Linda Zwick, Alejandro Steffani and Kym Balthazar Fetsko.
16.) Ritz Theater & Performing Arts Center – "A Night with My Sisters" by Emily Chase. Live music. M S
17.) The Bog – "Persistence" by Oliver Pettinato and Zaq Frisino of Five Down Designs. S
18.) The Recovery Bank – "MAY you live a life in Recovery" by Sam Kuchwara. Live music by Jung Bergo. M S
19.) The Workshop – Group Show: CTC Student Showcase. S
20.) Vecina – "Impressions of Nature – handmadepaper, letterpress" by Christine Medley. S
21.) Yoga West – "Awakening" by Kim Simmel. M S
22.) Bazaar Skateshop – "Environmental Crisis" Group Show. S

Back to News