First Friday Scranton Map: May 2023
Published: April 27, 2023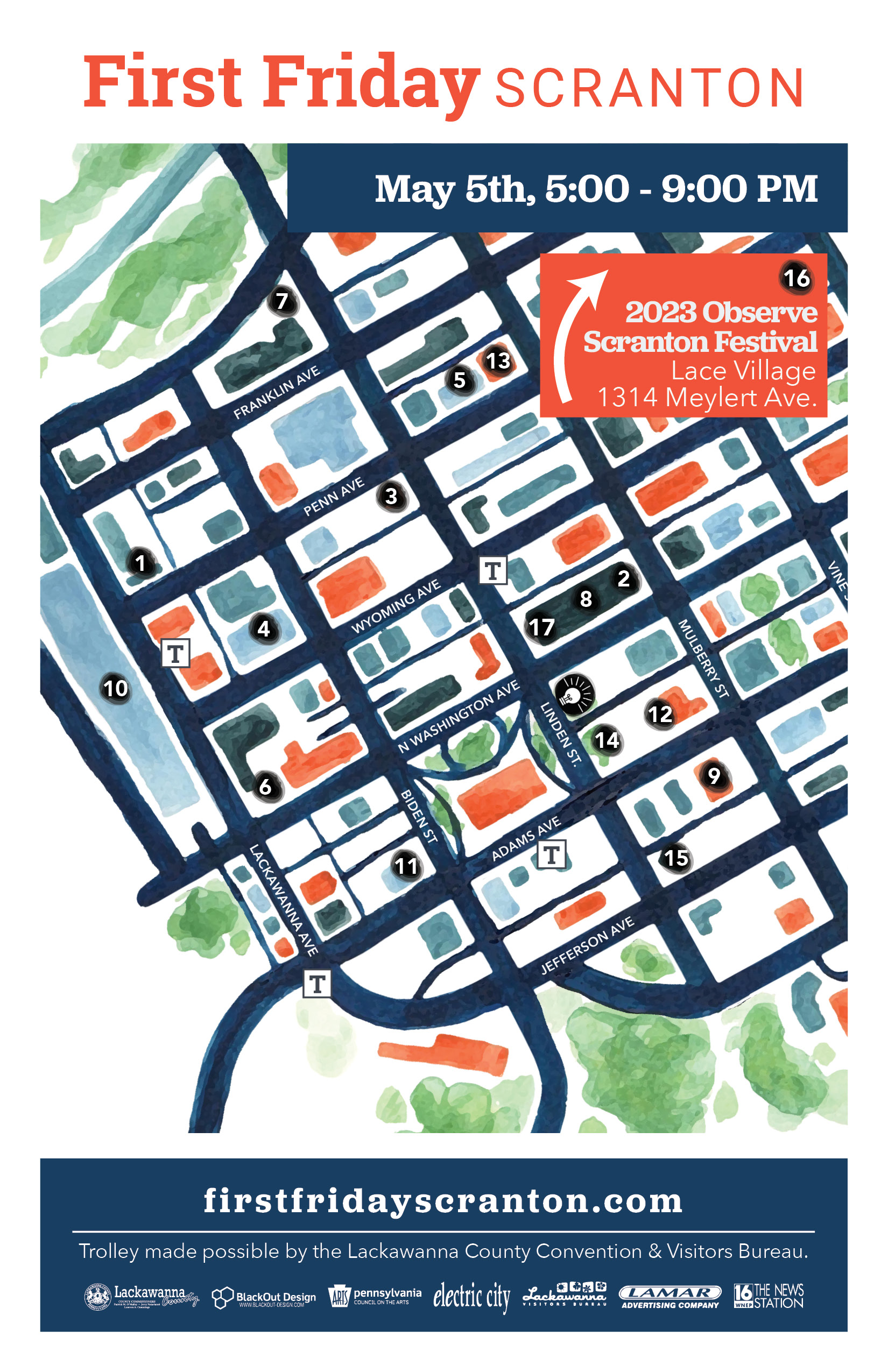 M = Live Music
S = Open Saturday
1.) AFA Gallery – "DRAWING IN: Celebration of Judy Youshock" (exhibit and street party) group exhibit. Live music. M S
2.) Analog Culture – "Pop Expression" by artists Vincent Bonitz & Eugene Lucas. Live music by K.A.N.O.B.I. M S
3.) ArtWorks – All Student Show.
4.) Bar Pazzo – "Kiln-Fired Color: Fused glass wall art" by artist Nancy Johnston Klapatch. S
5.) Fork N' Bowl – Various artists from Perry's Academy of Learning. S
6.) Garden Mediterranean Restaurant – "Who are You" an interactive exploration of identity by Annie McNallys WSHS Art Major students. S
7.) Liminal Ink and Art – Liminal Ink and Art Studio Launch feat. artist Devon O'Keefe. Live music by JP Biondo of Cabinet. M S
8.) Little Wild Refillery – "Paper Exchange" by Jordan Delzell. S
9.) Loyalty Barber Shop & Shave Parlor of Scranton – "All These Thoughts" by artist Emily Mckeel. S
10.) Marketplace at Steamtown – Howard Gardner Walk-a-Thon and Art Gallery. Live music by KRZ DJ's. M
11.) Northern Lights Espresso Bar & Café – "Stellar Perspective" by Joanna Wallace and Jessica Maietta. S
12.) Spice Asian Market- Anime by Sue Rocks Art. S
13.) The Giving Tree Wellness Center – Bloom: Recent pieces in painting & mixed media by Sam Kuchwara. S
14.) The University of Scranton Hope Horn Gallery – Pyrrhic Defeat: A Visual Study of Mass Incarceration by Mark Loughney.
15.) The Workshop – CTC High School Student Showcase. S
16.) 2023 Observe Scranton Festival at Lace Village. Live music. M
17.) The Gallery of Scranton – The Artist's Soul Closing Celebration. Live music by Diva Theater. M S
Wandering Musicians
Jim Cullen & Jack Bordo Duo
Back to News