First Friday Scranton Map: September 2022
Published: August 24, 2022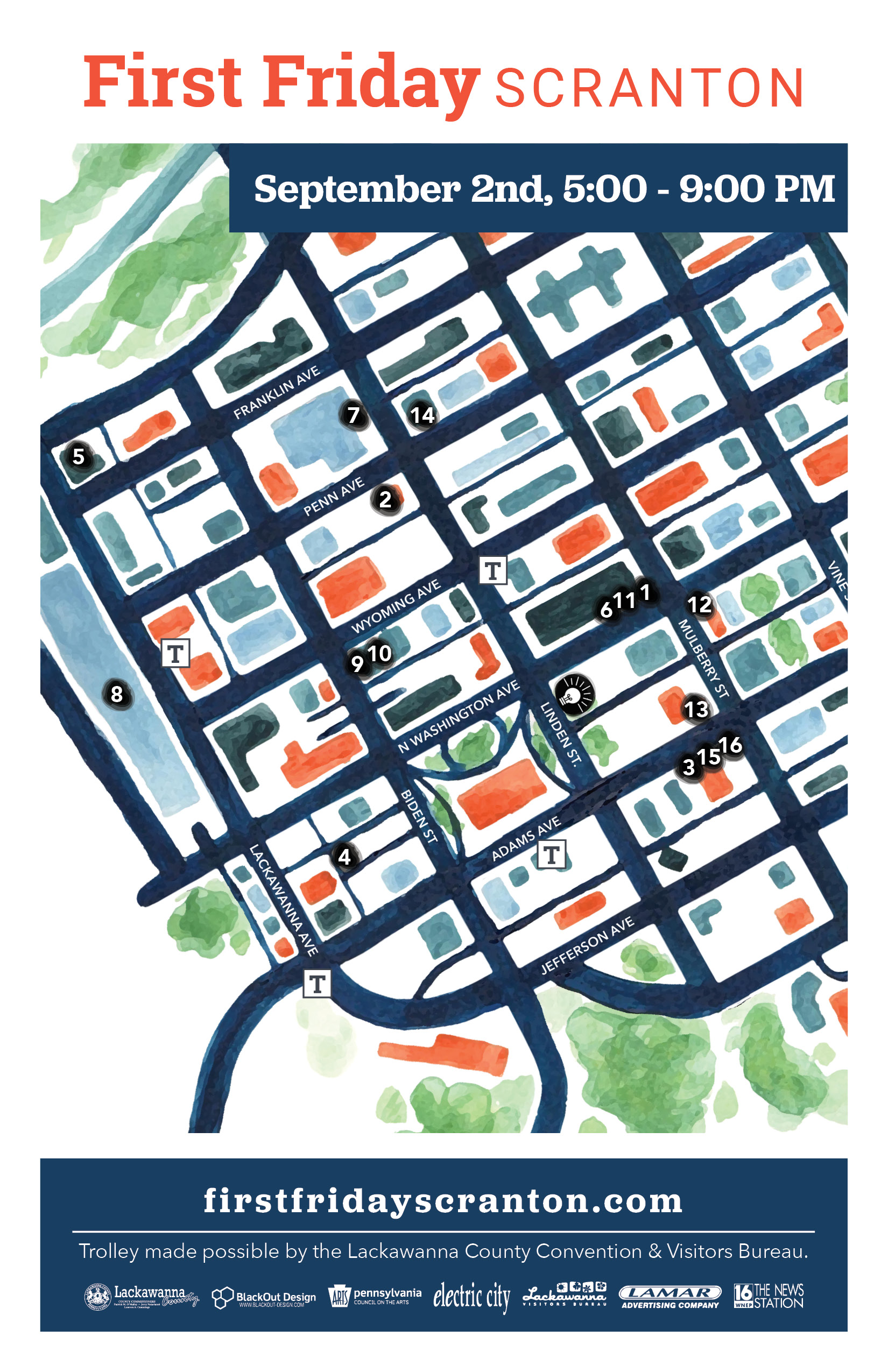 M = Live Music
S = Open Saturday
1.) Analog Culture – "The Return of Sam Kuchwara". Live music by Apollo Putnam. M S

2.) ArtWorks Gallery & Studio – "Tommy's Voice" by artist Tommy Hennigan.
3.) Bazaar Skateshop – "Tattoos" by Pete Maria & Chris Weaver. S
4.) Camerawork Gallery – "South Scapes: A Study in Sand, Stone & Light" by Lori Ryan. S
5.) Commonwealth Coffeehouse – "World of Colorful Abstracts" by Rena Hottinger. Live music. M S
6.) Crocus Cafe – "Mental Health Awareness" by various artists. Live music. M
7.) Duffy Accessories – "Listen to your Art" by Jaylynn Loomis. Live music. M S
8.) Friends of the Scranton Public Library – Book sale and "So You'd Like to Visit Scranton?" by author Rosemary Ferguson Robertson. S
9.) Hexagon Project – 16th Interdependence Hexagon Project Annual Exhibit by various international artists. Live music by Steve Werner. M S
10.) High Priestess Pole Studio – "A Little Bit of Everything" by artist Sachiko. S
11.) Little Wild Refillery – "Nature-Escapes" by Constance Denchy. S
12.) POSH @ The Scranton Club – "Ever-Evolving" by Daevid Mendivily.
13.) The Bog – "The Prisoner" by Chris Notchick. S
14.) The Giving Tree Wellness Center – "Painted Consciousness" by Danielle Rae. S
15.) The Workshop – Pop-Up Art Show feat. UNAPXLXGETIQ & Eric Bussart. Live music by John Meza. M S
16.) Pilger's Pastries – Meet the baker from Burke's Barkery. S
Back to News