Meet the FF April Artist: H.W. Yorkonis
Published: April 21, 2020
Name: H.W. Yorkonis 
Town: Avoca, Pa
Medium(s): Acrylic painting and mixed media
What got you into creating art? I stared to create art at a very young age, I used art as a way to escape reality. I found that creating / painting would allow me feel free of negative surroundings.
What work do you most enjoying doing? The work I most enjoy doing is painting, I love to paint it is my favorite activity. I love the colors, textures and process of painting on a canvas.
What's your favorite artwork? My favorite art work is my Women Warriors collection, I love how it helps others speak up about women's rights. The collection also gives back to the community.
What's the best piece of advice you've been given? The best piece of advice I have received is "rip the bandaid off". Just show up and be yourself!
What inspires you? My inspiration is derived From current events, local exhibitions of older works, yoga, cityscapes, women empowerment and other artists.
Favorite artists? My favorite artist is Picasso, Iv admired his work for a lifetime. His use of shape and color that conveys strong messages in history compels me.
What do you enjoy about First Friday? Oh I love going to and participating in First Friday events! I love the people, the art, the food. I enjoy supporting local businesses and local artist. It's a great night to enjoy with friends and loved ones.
Where do you see your art going in the next year? With in this year, I see my art really supporting the community. I have recently gotten into apparel, with a local print shop we used my art from the women Warriors collection to create racerback tank tops. Each purchase donates to the local women's shelter. I plan on expanding the line of apparel in able to increase donations!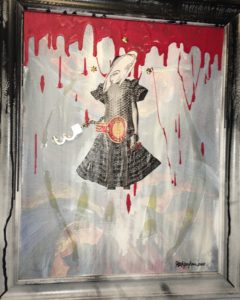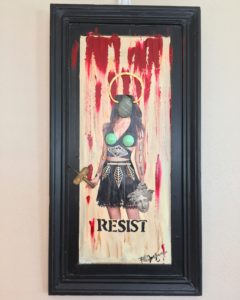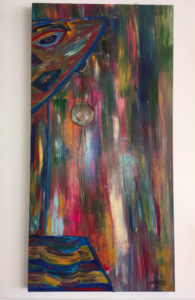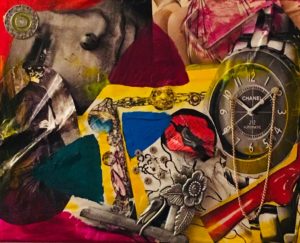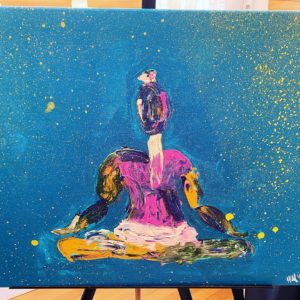 Back to News