Meet the FF April Artist: Iraina Caramelli
Published: April 30, 2020
Name: Iraina R. Caramelli
Town: Pocono Lake, PA
Mediums: Watercolor, Mixed Media, Pastel, Pen&Ink, Printmaking, Acrylic
What got you into creating art?  I have always been drawing and creating since I was a child. I was fortunate to be in a Fine Art Program in HS. I continued my Art journey at Pratt Institute and Parsons School of Design (Graphic Arts) from which I graduated in 1969. I worked in Design for several years until I married and began a family, at which point I returned to the Fine Arts which has always been my first love. I was an Administrator, Teacher, Demonstrator, Program Creator, Curator for the Alliance of Queens Artists in NY for 9 years. I moved to the beautiful Pocono Mountains in 1990 where I have continued to share and teach (through the Pocono Arts Council and privately), be inspired and create my Art. I am represented by the Morgan Gallery and am listed in Who's Who of American Woman.
What work do you most enjoying doing? Hard to say what I enjoy the most. Probably the landscape, but I love the human form as well.
What's your favorite artwork? I Love the work of the Impressionists, especially VanGogh.
What's the best piece of advice you've been given? Best advice I've been given? Hmm, I suppose I have to say be true to yourself.
What inspires you? My inspiration comes from many sources, observing how light develops form.
Favorite artists? Van Gogh!
What do you enjoy about First Friday? Camaraderie!
Where do you see your art going in the next year? I will continue to teach and share with my students, create my own work and continue to be inspired by the beauty around me.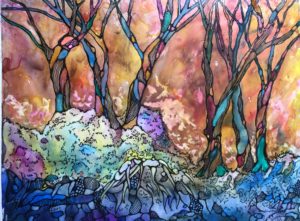 Fantasy Woods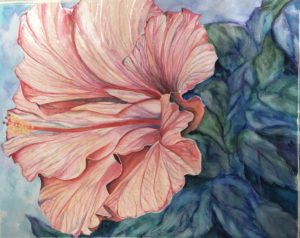 Resplendent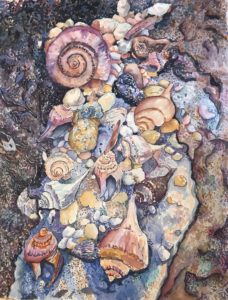 Shell Slide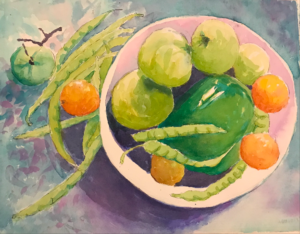 Summer's Bounty
Back to News