Meet the FF May Artist: Ashley Caswell
Published: May 18, 2020
Name: Ashley Caswell
Town: Scranton, PA
Medium(s): Acrylic Paint and Resin
What got you into creating art? My father would always draw with me when I was a child and got me very interested in drawing.
What work do you most enjoying doing? My favorite is probably doing pain pours, because they are the most relaxing and fun paintings to do.
What's your favorite artwork? Although it's very popular I really do love "Starry Night" by Vincent Van Gogh
What's the best piece of advice you've been given? To simply never give up. Everyone starts at the same place. Don't compare yourself, or feel pressured just keep practicing and eventually you will find your way.
What inspires you? Nature, seeing some cool art that helps spark an idea, and just my general passion for loving to play with paint and be creative.
Favorite artists? Jackson Pollock, Pouring Your Heart Out, Gina Deluca
What do you enjoy about First Friday? Being able to meet new artists and see all the various talents everyone has.
Where do you see your art going in the next year? I'm honestly not sure, but I plan to keep creating and see where my life takes me.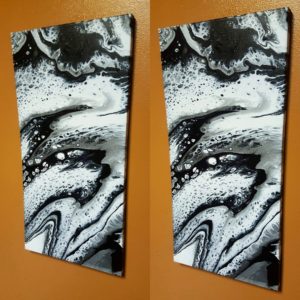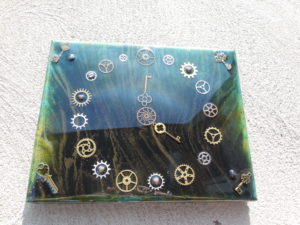 Back to News